Southern Colorado Veterinary Internal Medicine (SCVIM) has a long and respected history of providing specialized care for pets in Southern Colorado. In fact, we have been caring for the most critically ill and complex conditions for pets in our community for over 24 years! We were founded in 1999 by Dr. Chris McReynolds. Though we have grown to become one of the largest veterinary internal medicine practices in the country, we remain rooted in small community values, creating a partnered approach with our clients to ensure the most individualized care for our patients.
Our practice offers an expansive range of specialty services to diagnose and treat pets, including ultrasound, video endoscopy, CT Scan, and chemotherapy, among many other offerings. Our board-certified internists have extensive training specific to internal medicine, and apply their expertise to diagnose and treat pets with complex and critical medical issues on a daily basis.
Together, our doctors have a combined 80 years of experience, and regularly collaborate on cases and patient conditions together. We also work closely with primary care veterinarians and other specialists in the area, assisting patients through a networked support system. In addition to our specialists, there is a dedicated team of pet lovers we call our technicians, client care advocates, and management staff. Our experience and teamwork is unmatched, and our individualized approach to patients makes us unique.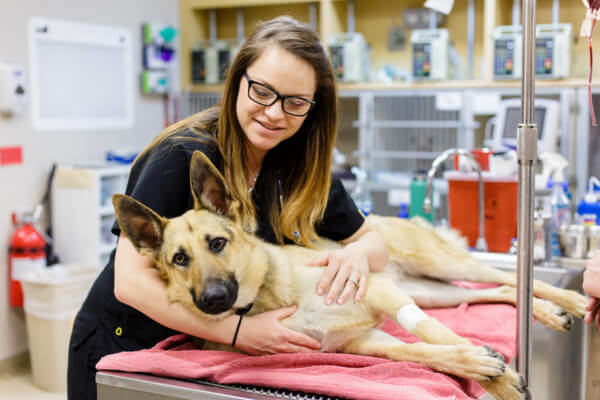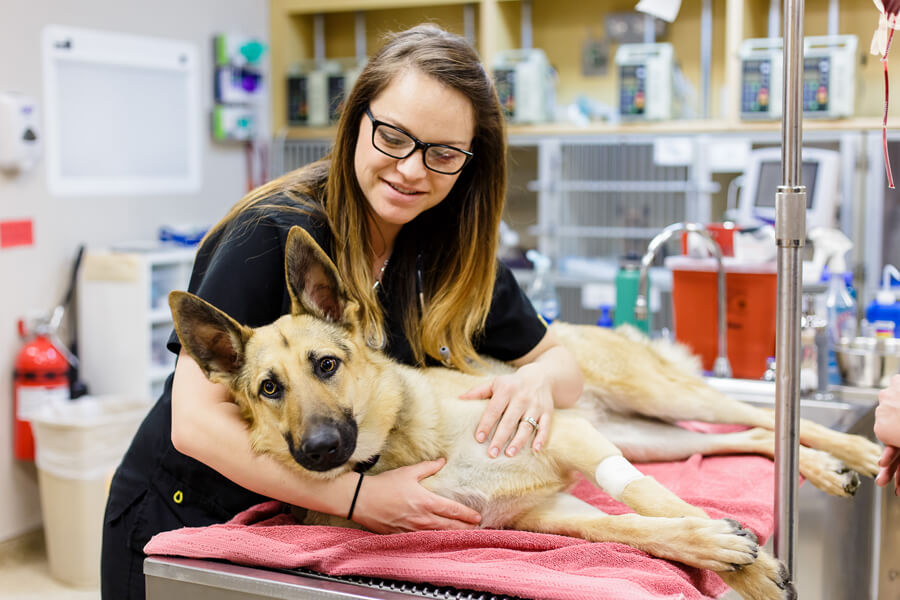 Lobby & Private Entrances
We understand that every pet is unique. So we've created a place that is welcoming to the incredible range of personalities our patients have. Grab a blanket for your pet's comfort on your way in. Select a social or private waiting area. Does your pet need a private entrance? Call us ahead to skip the lobby and bring your pet directly into a room. You'll notice touching photos of pets and their people all over walls – those are our family!
Exam Room for Every Need
Comfort is key when you and your pet are visiting with our team. With the serious health concerns our patients have, a visit with us is a family affair. Our exam rooms have ample seating. We also have open exam rooms called "nooks" for quick check-ins and a less enclosed feel. We even have fully private rooms dressed like home to take a little more worry away.
We Emphasize Comfort Throughout the Entire Hospital
Our patient comfort extends to our specialized treatment areas throughout the hospital. We have private rooms for our diagnostic evaluations such as an ultrasound and endoscopy.
We know it can be difficult to be comfortable when illness requires your pet to be hospitalized but we do our best for you and your pet. Our ICU has dedicated staff that allows patients to be fully attended, 24-7. We emphasize a restful environment, including creature comforts such as wireless ECG so patients can be less encumbered.
We also have dedicated space for chemotherapy, among its specialty items we stock the best treats in the clinic. As with all our treatments, our mission is to restore and maintain your pet's health.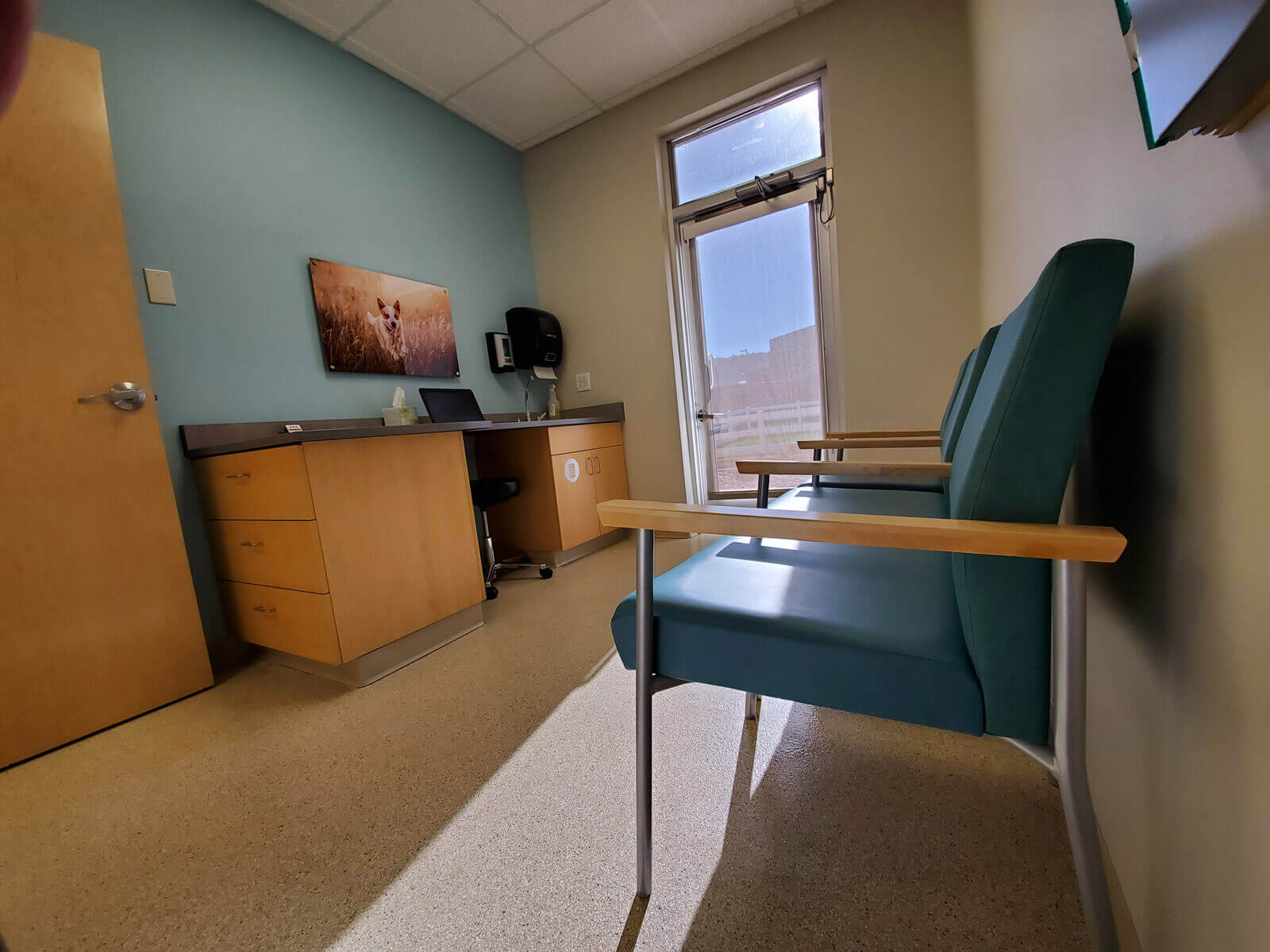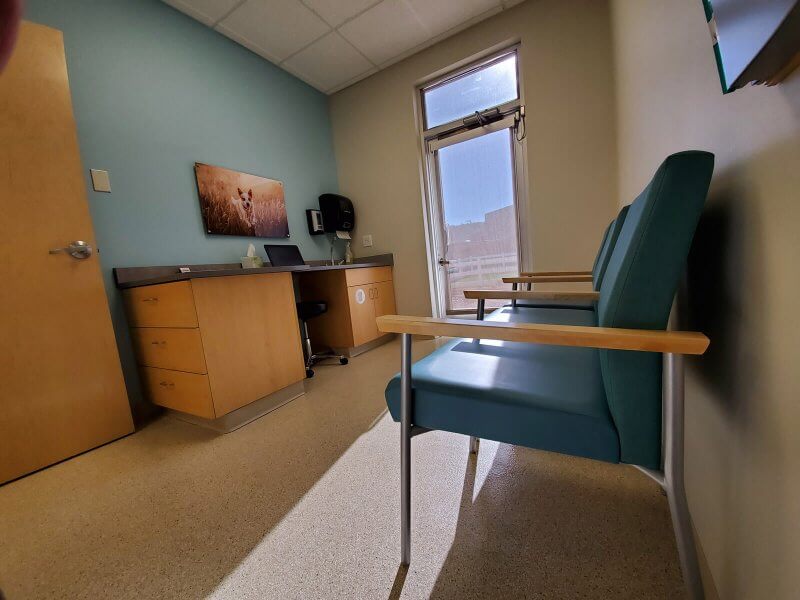 EXAM ROOM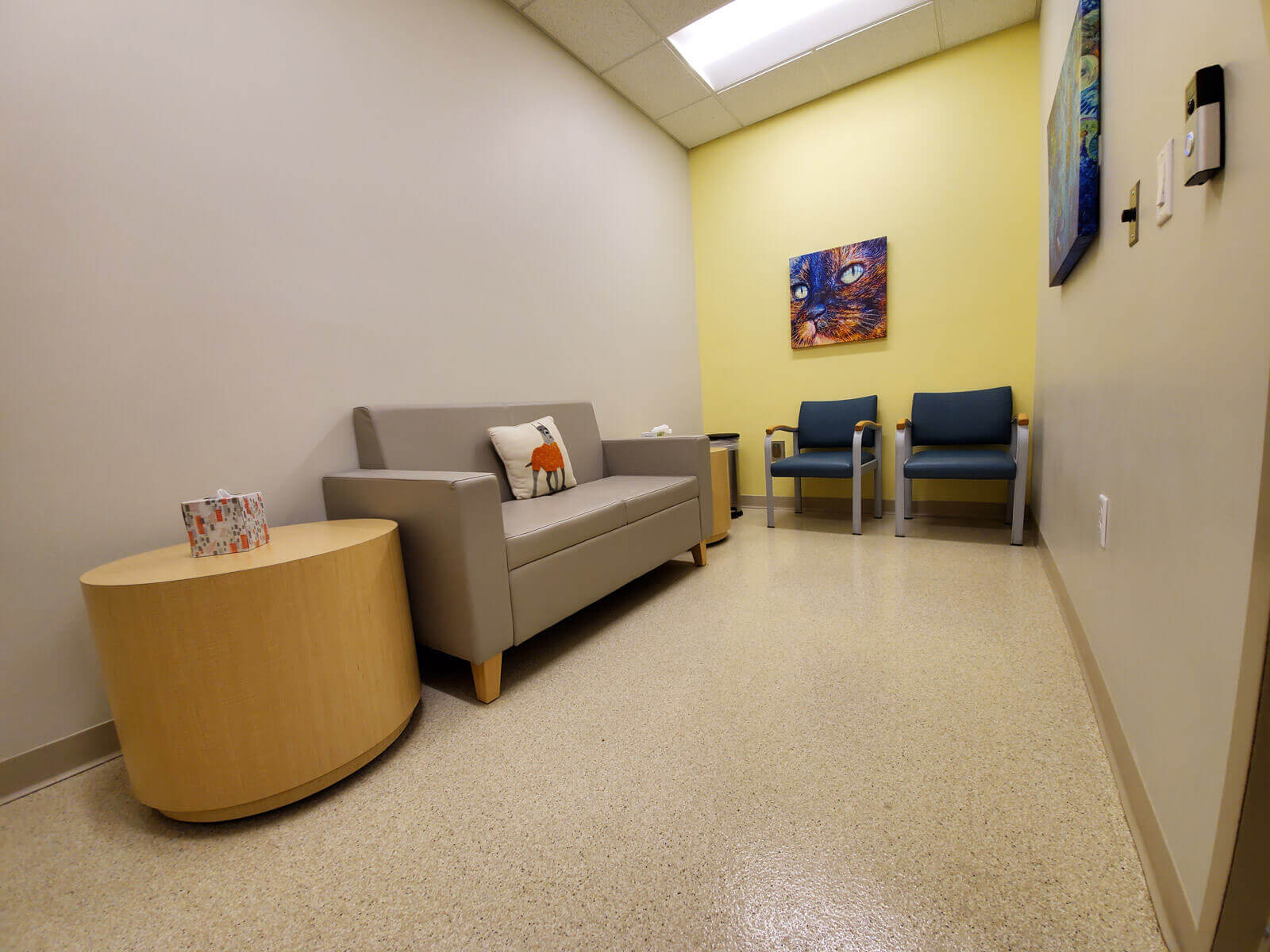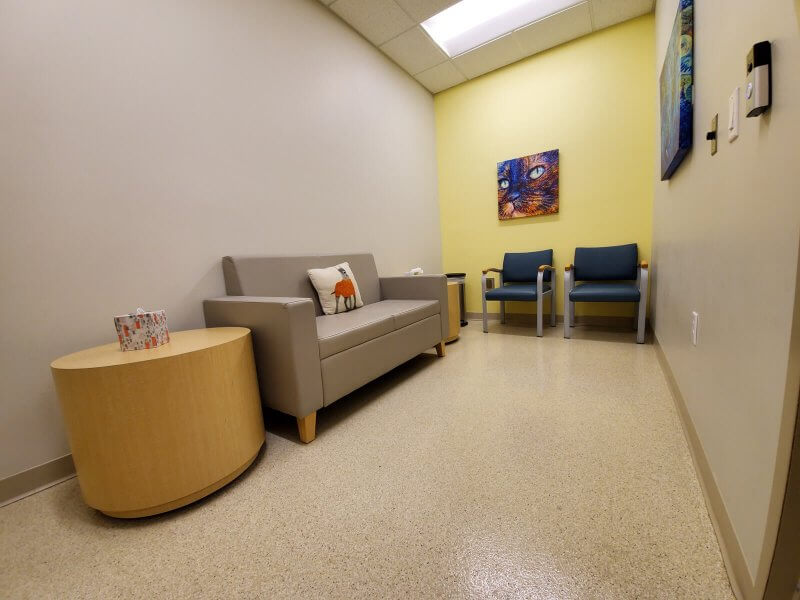 COMFORT ROOM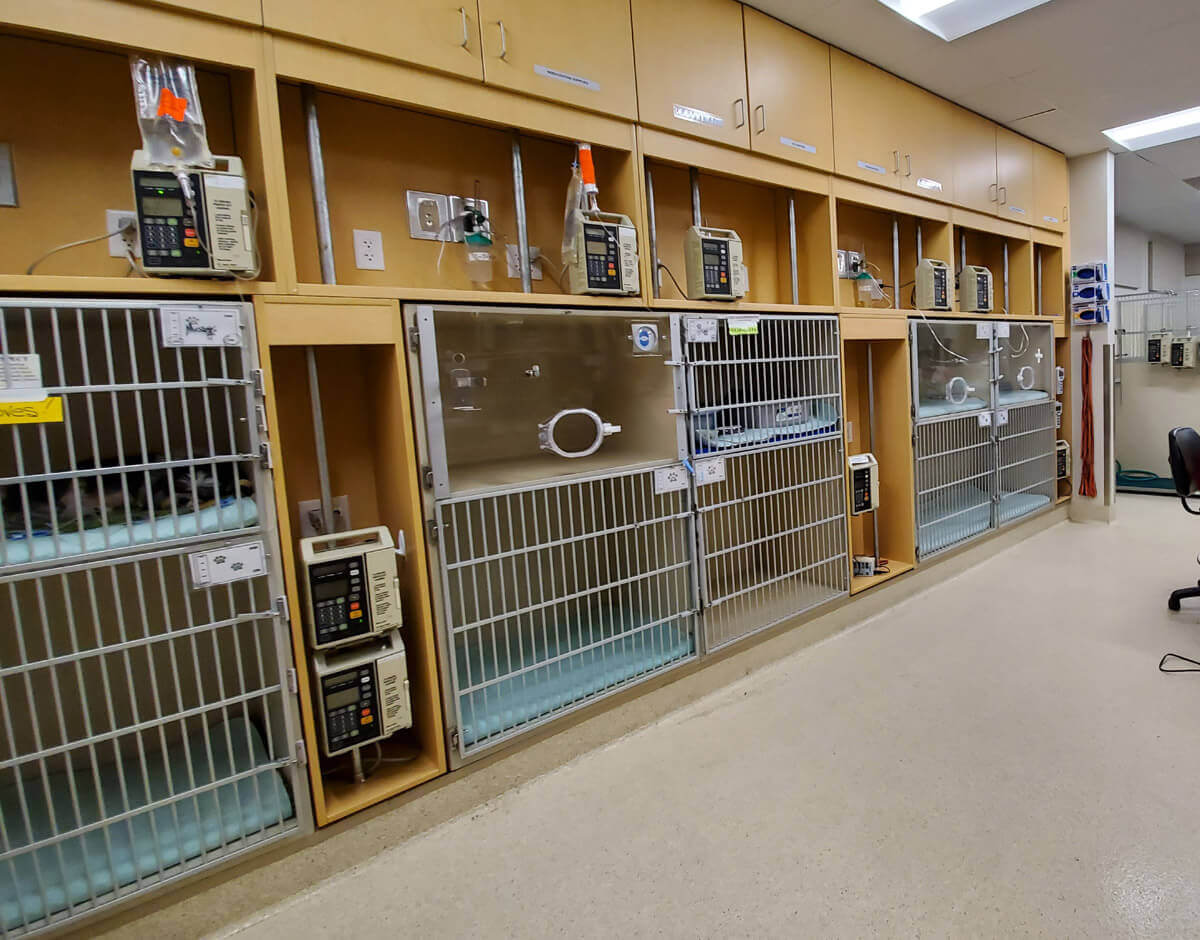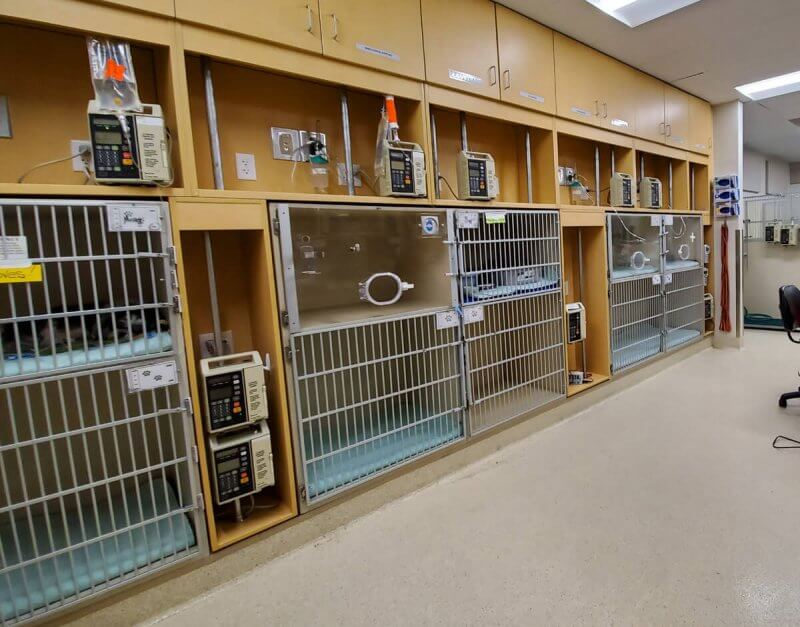 ICU
One Campus,
MANY SPECIALTIES
Our facility at Southern Colorado Veterinary Internal Medicine is part of the Veterinary Specialty Center – Southern Colorado's premier veterinary campus providing access to several specific specialties and emergency medicine.  Each practice is independently owned and operated, including Colorado Canine Orthopedics & Rehab, Mountain View Veterinary Surgery, Animal ER Care,  Animal Allergy & Dermatology of Colorado, Animal Dental Care, and of course, Southern Colorado Veterinary Internal Medicine.  Though we each operate separately, all of the veterinarians and staff work together toward one common goal: restoring and maintaining our patient's quality of life.